Program Coordinator: Karen Dacey
Phone: 828-859-9230
Fax: 828-859-5364
Karen email: polk@bbbswnc.org

Outreach Coordinator: Mary Prioleau
Phone:  828-899-9699

301 N. Trade St., Tryon, NC 28782
Polk News: Events & Important Dates
BBBS News:  Polkin' Around                                         September 2016
Happy Anniversary!
BS Lynne Parsons                  LS Josie       3 years
BS Marilyn Prudhomme     LS Mari Lee  1 year (Community-Based)
Mark your calendars for Bowl For Kids' Sake, Saturday, October 29, 12-2. Volunteers needed!!  To set up your  team for online donations, please visit:  https://www.firstgiving.com/bbbswnc/bowl-for-kids-sake-2016-polk-co  Our thanks to event sponsor Parsec Financial for their generosity! Other sponsors so far include: CooperRiis, Fairfield Mountains Chapel, A. Bailey Nager – Attorney at Law, Jennifer & Roger Smith,  Blockhouse Sport Horses/Kocher Family, and Pangaea Internet.  
Welcome to our new Outreach Coordinator Mary Wells Prioleau! Mary has been a Big Sister for two and a half years, and will now be leading our recruitment and fund development.
Please remember to take photos of you and your Little on outings to share with BBBS!
Calendar of  Community Events:
For Library events for kids, please visit http://polklibrary.org/events/; http://www.infodepot.org/zS1/Events.asp#/?i=3;
…through Sept 10, Saturday Night Lights, TIEC, 6-9pm, carousel, face painting, magicians, performers, music, more…FREE. www.tryon.com
…thru Sept 4, Ghostbusters, rated PG, Tryon Theatre, 859-6811.
…Sept 2, Aaron Burdett concert, McCreery Park, Saluda, 7pm, bring chairs and picnic, FREE. In case of rain will move to covered pavilion.
…Sept 3, Saturday Night Lights, TIEC, Pea Ridge, 6-9pm.
…Sept 3, Concert in Stearns Park, 7:30pm, bring chairs and picnic, FREE.
…Sept 4, Sound Investment concert, McCreery Park, Saluda, 4pm, bring chairs and picnic, FREE. In case of rain will move to covered pavilion.
…Sept 6, Crafternoon, Landrum Library, fish puppets, snacks, 3:30pm, FREE.
…Sept 6, Teen Scene: Smoothies & Nintendo WiiU, Polk Library, 4-6pm, grades 6-12, snacks, FREE
…Sept 7, Pokemon Party, Stearns Park, Columbus by Polk Co Library. Crafts, games, and Pokemon Go lures will be set up. Bring a white shirt to tie-dye. 4pm, FREE.
…Sept 7-11, Star Trek Beyond, rated PG13, Tryon Theatre, 859-6811.
…Sept 8, Anime Club, Fruit Basket (PG) film, grades 7-12, snacks, FREE.
…Sept 8, Fall Fest concert, Landrum Library, 6:30pm, bring chairs and picnic, FREE.
…Sept 9-18, NC Mountain State Fair, WNC Ag Center, Fletcher, mountainfair.org. Ingles has discount tickets for sale.
…Sept 11, BBBS Rafting Trip! See info below.
…Sept 11, Doug Elliott storytelling & song, FENCE, 4-5pm, refreshments, FREE.
…Sept 12, Teen Time: Movie (one of 3 choices),Landrum Library, 3:30pm, grades 7-12, snacks, FREE.
…Sept 12, Teen Scene: Nintendo WiiU, Saluda Library, 4-6pm, grades 6-12, snacks, FREE.
…Sept 13, Teen Scene: Tie-Dye tshirts, Polk Library, 4-6pm, grades 6-12, snacks, FREE
…Sept 14, Children's program at Polk Library: Roald Dahl birthday party, 4 pm, k-5, FREE.
…Sept 15, deadline for Po'Kitties photo contest of any animal. Entry form and fee required. Prizes awarded! Visit pawsprayersandpromises.org for info.
…Sept 15, Sand mandala at Landrum Library, 5th & 6th graders, 3:30-4:30, FREE.
…Sept 19, Teen Time: Paper Plane contest, Landrum Library, 3:30 pm, grades 7-12, snacks, FREE.
…Sept 19, Teen Scene: Stuffed Animal Taxidermy, Saluda Library, 4-6pm, grades 6-12, snacks, FREE.
…Sept 20, Teen Scene: Nintendo WiiU MarioKart Tournament, Polk Library, 4-6pm, grades 6-12, snacks, FREE.
…Sept 20, Landrum Tea Party @ library, 6pm, bring stuffed animal, fashion show, crafts, manicures, registration required at 457-2218, FREE.
…Sept 21, Children's program at Polk Library: Legos, 4 pm, k-5, FREE.
…Sept 22, Anime Club, Pokemon Forever film, Landrum Library, 3:30pm, make cubees, grades 7-12, snacks, FREE.
…Sept 24-25, Art Trek Foothills Open Studio Tours, 10-5,
…Sept 24, Empty Bowls for TBOM, Parker-Binns.
…Sept 25, Hooked on Fishing, White Oak Mountain lake, 2-5pm, FREE! For info contact jeffreycharris@gmail.com, 859-5375 or 899-1386.
…Sept 26, Teen Time BINGO, Landrum Library, 3:30 pm, grades 7-12, snacks, FREE.
…Sept 26, Teen Scene: Nintendo WiiU MarioKart Tournament, Saluda Library, 4pm, grades 6-12, snacks, FREE.
…Sept 27, Lego Club, Landrum Library, 4:30 pm, kids & tweens, snacks, FREE.
…Sept 27,Teen Scene: Miss Peregrine's Home for Peculiar Children party, Polk Library, 4-6pm, grades 6-12, snacks, FREE.
…Sept 28, Children's program at Polk Library: Nintendo WiiU, 4 pm, k-5, FREE.
…Sept 30, Hilltop Fall Festival, Main Street, Rutherfordton, 6-9pm, arts & crafts, music, kids' activities, amusement rides, concessions. FREE admission.
Check out the Norman Wilder Forest new trail on Hwy 176 in the valley in Tryon!
Rafting Trip for matches!  Sunday, Sept. 11  
Limited to 15 matches! We'll be rafting a 5-mile trip on the French Broad River with French Broad Rafting! Thank you to their staff for the generous discount they provide!
Time:  Arrive by 1:30! Trip begins at 2:00 in Marshall.
Approximate end time:  5:30
* Minimum age:  8
* Rain or shine
**How to sign up:  Bigs – cost for you is $10 each. We will sign you
up for the trip only WHEN WE RECEIVE your check. (Polk Bigs can reserve a FREE space via Karen for any open spots.) If you cancel, you get a refund if we can fill your spot. Open to the first 15
matches. Drop off or mail your check to:
BBBS   50 S. French Broad Ave. Room 213   Asheville, NC 28801
Directions and waivers will be sent once Bigs are signed up.
(The $10 cost for your Little is being covered by a grant from the
Glass Foundation).
Local Events & Opportunities:
Gibson Park Pool in Columbus is open Tues-Sat, noon-5, Sunday 1-5, $3/person. Polk Littles are eligible for free swim lessons arranged via Karen (must provide your own transportation).
Bingo! Every Friday night at 7 pm, American Legion Post 250, Tryon. Small fee to play, prizes!! The local American Legion makes donations to area organizations throughout the year from bingo proceeds, including to BBBS. Like their Facebook page at American Legion Post 250 and Auxiliary.
1st and 3rd Sundays, SCLT Walk in the Woods, meet 2 pm at Saluda Library, 828-749-1560 or www.saludasclt.org for info.
Saturday Nights Live at the Tryon International Equestrian Center, 6-9pm: info at tryon.com
Local Farmer's Markets are now open!
KidSenses Children's Interactive Museum, Rutherfordton is offering FREE Fridays! 828-286-2120, http://kidsenses.org/
For Rutherford Co events visit http://www.rutherfordtourism.com/events
Forest City Owls Baseball http://www.rutherfordtourism.com/events#!/93152-forest-city-owls-baseball-games
Free passes for Asheville Tourists home games through our Asheville office at 828-253-1470 or email jamyed@bbbswnc.org, for schedule visit http://www.milb.com/index.jsp?sid=t573
Helpful Tips for Bigs:
Bigs please remember to take advantage of our Enrichment Funds designated to support Polk matches. Feel free to request reimbursement for outing-related expense such as movies and concessions, admission fees, tickets, etc.
BBBS events:
All of the Littles who attended the annual Recognition Dinner for Littles were honored for their accomplishments. Big Sister Mary Prioleau brought her LS Maddie and sibling LB Tye.
Maddie was recognized for her great compassion for others evidenced by her volunteering at Hospice House, helping senior citizens, and spending time with her brothers and an ill nephew. Maddie also learned to swim, played on a volleyball team, and enjoys practicing soccer.
Tye has the reputation at school for manners and hard work. He was also recognized for his major soccer talent and for learning to swim. Tye is helpful, handy and mechanically-inclined. He is mature for his age and has a very good sense of humor.
Also attending the annual Recognition Dinner were Little Sister Vicky, Little Sister Allie, and their Mom Peggy. The crowd went wild with applause for these two exceptional girls.
Allie was honored for making A's all year long and, not surprisingly, is ranked first in her class academically at her school. She was also recognized for membership in the National Junior Honor Society. While in seventh grade, Allie was selected to receive the Bell Scholarship, which will provide $2000 a year for college. She has won third place in the school science fair two years in a row. Allie is very creative in arts and crafts. As a talented painter, she was named winner of the regional Lion's Club art contest for Peace and awarded $100. Allie and her sister Vicky also volunteered on a recent weekend at Relay for Life to help raise funds to fight cancer.
At school Vicky has been involved with student government, yearbook, filmmaking, drama, and competitive swimming. As a member of the National Honor Society, she was a school representative at the LEAD Conference in Washington DC in January. Vicky has completed 200 hours of volunteer service, including with BBBS and helping at the local animal shelter. She has also organized school projects and charity events, such as raising money for cancer, participating in Relay for Life, and hosting a food drive for the local outreach organization. As Vicky approaches graduation, with honors, she was accepted by her top two college choices, Appalachian State and UNC-Chapel Hill. She has accepted a full-tuition scholarship to Appalachian State as one of six Wilson Scholars, and will study International Relations and International Criminal Justice, with a minor in Arabic or Middle Eastern Studies. Vicky recently learned of human trafficking hubs in Western North Carolina that seriously put young girls at risk. She hopes to work in the human trafficking department of the FBI or SBI, or as an intelligence analyst and writer for the CIA.
Polk BBBS celebrates three Littles who reached graduation this school year: Vicky Anderson, Russell Kenneth Ruff, and Kesley Warren. Some Littles are obviously self-motivated and need less encouragement, but all are supported and guided to broaden their life experience and make strides while matched with their mentors. Big Brothers Big Sisters is very proud of the achievements of all of our Littles. Congratulations to all!
The 5th annual Have a HeART for Big Brothers Big Sisters opening reception at the Upstairs Artspace was delayed by snow to January 30.  A huge crowd gathered to review more than 100 heArts donated by many talented and generous artists for this silent auction to benefit BBBS. Many thanks to the Upstairs Artspace board and staff for hosting this event. Generous bidders, supporters, and many helpful volunteers to joined us in making this the best year ever!             Thanks to Jim Cornell & Doug Dacey for making the bisque hearts. We are so grateful for our sponsors: Heart of Gold Sponsor – Song Hill Reserve; Opening Reception Sponsor – Walker Wallace & Emerson Realty; Closing Night Sponsors – Dave & Sue Anderson and Anonymous; Bronze Heartwarming Sponsors – Happy Horse Farm, Roger & Joanie Newman, , David & Patty Slater, Tryon Daily Bulletin, Tryon Estates. Heart & Hand Artist Sponsors – The Book Shelf,  Garrison Chapel Baptist Church and Vines & Stuff.
Polk Big Brothers Big Sisters was a charity recipient of the Tour de Leaves 2015 bicycle tour on October 18, with about 200 riders participating!
Special thanks to our friends and neighbors at Soups On, a benefit for BBBS  hosted by Chris and Linda Tinkler.
American Legion Post 250 recently made a generous donation to Polk BBBS from their Friday night bingo proceeds! Thanks to  former BB Darrel Moore of the Veterans Services for arranging the gift, to BS Robin Edgar for initiating it, and to Finance Officer Bevin Corbin.
BOWL FOR KIDS' SAKE! was held on Saturday, October 31. Thanks to all who helped make it a great success, including Becky Kennedy (center below) and her team "The Bowled & the Beautiful" from the Polk County Democrats. Becky again amassed pledges of more than $3000! Teammate Judy Arledge, right, came in 2nd with pledges.
Presenting Sponsor: Terry Ackerman, Strike Sponsors: CooperRiis and Roger & Jennifer Smith; Pin Sponsors: Rob Fuller, Lichty Guitars, Morning Glory Farm, A.Bailey Nager – Attorney at Law.
Team Sponsors: John & Cindy Boyle of Wells Fargo Advisors – Landrum, Digit & Beth Laughridge, Kiwanis Club of Tryon and Musselwhite Electric. Lane Sponsors: Bonnie Brae, Diamond B Energies, Cindy Viehman, Andy & Linda Haynes, HomeTrust Bank, Hospice of the Carolina Foothills, Sandy McCormack, Millard & Co, Mike & Paula Mullenax, North State Gas, PANGAEA, Paws Prayer & Promises, Jim Peterman, Po Kitties, Prince Gas Co, ServiceMaster, Blake Smythe, St Luke's Hospital, Stearns Education Center, Walker Wallace & Emerson Realty.
Additional Events:
Area Opportunities:
Felburn Foundation Nature Library, 3161 Hwy 176 next to Caro-Mi, open M-W-F, 12-6, (828) 859-6745, call for info on expanded hours.
There are lots of children's activities at Hands On! A Child's Gallery in Hendersonville: 828-697-8333, www.handsonwnc.org.
The Hendersonville Museum under the old courthouse downtown is free and open on Sundays from 1-5 p.m. www.hendersoncountymuseum.com
Area hiking opportunities :
Visit http://www.kidsinparks.com/ for info on exploring area trails with children, including Kid's Main Street Safari in Rutherfordton. Games, tree climbing, gold hunting and a search through a Civil War cemetery are highlights. Also featured in our region are The Gold Mile and the Historic Downtown Walking Tour in Rutherfordton, Chimney Rock State Park, the Carl Sandburg Home in Flat Rock, and more.
The Norman Wilder Forest for a moderate 2-3 mile hike, Hwy 176 & Tau Rock Vineyard Rd, Tryon.
The trailhead to the Blue Wall Preserve is on Dug Hill Road off Lakeshore Drive on Lake Lanier.
FENCE has miles of hiking trails.
For regional discounts, visit our organization's webpage at www.bbbswnc.org – Match Central.
Discounts:
Show your Big Brothers Big Sisters ID for the following match discounts on your next outing:
Flat Rock Playhouse – Free tickets for select plays, contact BBBS.
Pearson's Falls is offering Polk Bigs/Littles free admission  once per year. Present your BBBS ID card at the gatehouse. Pearson's Falls is open, 10-5 M-Sat, noon-5 Sun. For info visit www.pearsonsfalls.org.
Asheville Tourists: Free tickets for Bigs & Littles for Sunday-Wednesday games, excluding fireworks games. To reserve tickets call 253-1470 between 9 a.m. and noon on the day of the game, or between 9 a.m. and noon Friday for a Sunday game. Pick up your tickets at the will call window at the ball field under the Big's name.
Nantahala Outdoor Center: Whitewater rafting! Big rafts at regular price and Little goes for free. Valid on any Nantahala River rafting adventure including guided, rentals and duckies. Littles must be 7 years old or 60 lbs. Some restrictions may apply. Not valid with any other offer. Reservations required. Call 800-232-7238 and mention code 4BBBS.  Participant must show BBBS ID card at check-in.
Chimney Rock Park: Big buys a ticket to the park and the Little's is free. Any day of the week.
Flat Rock Playhouse: Limited number of FREE tickets to plays available at the Buncombe, Polk, and Henderson county offices. Call the Flat Rock Playhouse at 828-693-0731 for schedule.
Fuddruckers: Kids under age 12 can eat free from the kid's menu, with the purchase of an adult entree after 4:00 p.m., Mon.-Wed. You do not need to show your BBBS card.
Fun Depot: 2 hours for $15/person, $20/person for 2 hours w/ pizza & pasta buffet included.
The Hop Ice Cream Cafe: Big pays for item, Little's item of equal or lesser value is FREE. Bigs will need to show BBBS participant card. 640 Merrimon Ave. (Merrimon Square, Suite 103).
Tarwheels Skateway: Roller Skating, Highway 70 in Swannanoa.  Bigs pay for the skating session but Littles skate free. Bigs – show your BBBS participant card to receive the discount.
Tropical Gardens Mini-Golf: Little plays for free when Big pays.
Ultimate Ice Cream: Big buys a cup/cone of ice cream and the Little's is free.
Urban Burrito: Littles eat FREE on Tuesday nights!  On Tuesdays after 5:00, Little eats free if the Big Brother/Sister buys a meal. Bigs, just show your BBBS participant card to the cashier when you pay. Offer good at both locations: Merrimon Avenue and Hendersonville Road.
WNC Nature Center: Free admission for Littles when their Bigs show participant cards.
YMCA: Enjoy unlimited visits to the YMCA! Present your YMCA photo ID (or pick up membership applications at our Asheville office).
Asheville Symphony: Matches can attend concerts FREE by contacting jamyed@bbbswnc.org (at least a week in advance, please); read about next season's performances atwww.ashevillesymphony.org.
Check out these regional websites:
Polk County Public Library Online Resources: Freegal: Download free music! Reading Rockets: Reading comprehension and language arts teaching strategies for kids. 
Homework help and other online learning tools from NC LIVE (call the library for password to access resources, 894-8721 Columbus, 749-2117 Saluda), www.publib.polknc.org.
For homework help via Polk County Library visit: www.nclive.org/browse/homeworkhelp
For more area activities:
www.funthingstodointhemountains.net
More About BBBS Polk County:
                                   Polk BBBS Christmas, December 2015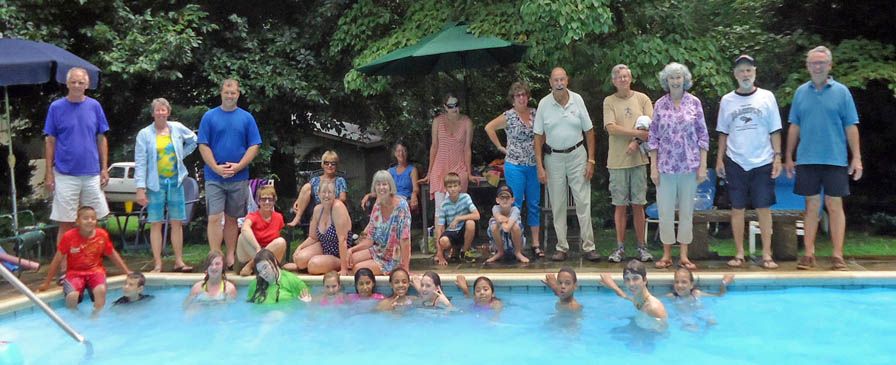 Bigs & Littles celebrated summer fun with a pool party and picnic at Matthew's backyard paradise!
BS Monica, BS Helen,  LS Allie, LS Vicky
BB Mike, LB Zane, BS Paula
BB Michael & LB "King" George
Traditional Program: Volunteers are matched with Littles and develop friendships through outings in the community.
M&M: Volunteers spend one hour a week one-on-one with a student who needs a little extra attention at school. Schools served: O P Earle, Polk Central, Saluda and Tryon Elementary schools.