Program Coordinator: Karen Dacey
Phone: 828-859-9230
Fax: 828-859-5364
Karen email: polk@bbbswnc.org

School Mentoring Coordinator: Latisha Miller

301 N. Trade St., Tryon, NC 28782
Polk News: Events & Important Dates
BBBS news:  Polkin' Around                                       November 2015
Happy Anniversary!
BC Lynne Parsons/Ernie Giannini        LB Russell     11 years!!
BS Monica Jones                                LS Vicky            10 years!
BS Darlene Stone                               LS Hannah        3 years
BS Robin Edgar                                    LS Ivy                   1 year
Welcome to our newest matches:
          BS Ashley Brewington & LS Morgan and BB Ryan Lail & LB Kamron
Big Successes during a very busy fall for Big Brothers Big Sisters…
Thank for the volunteers who helped out on a cold day with the Tour de Leaves bike ride, which will benefit BBBS. BS Sue Anderson and LS Nathalie were a big hit at the Flat Rock rest stop handing out water and snacks with BB Michael Veatch's daughter and granddaughters. Such troopers!
Thanks so much to all the sponsors, bowlers, pledgers, and volunteers who made Bowl for Kids' Sake a big success!!
BBBS led the Hammerschlagen games at Tryon Beer Fest, and will receive a donation to BBBS from their proceeds. Many thanks to those who came out for the occasion. Despite gloomy predictions the weather held up for a great event!
Local Events Calendar:
…Nov 8, Storytelling at FENCE with Mary Davis & Lance Smith, 4pm, FREE.
…Nov 11, Veteran's Day parade, Columbus, 10am, Memorial service 11am.
…Nov 12-15, 19-22, You're a Good Man Charlie Brown, Tryon Little Theater, www.tltinfo.org. Polk matches eligible for enrichment funds.
…Nov 14, Tie Dye workshop, Tryon Arts & Crafts, 9am-5pm. For info call 859-8323 or visit www.tryonartsandcrafts.org
…Nov 14, Paper Flower workshop, Ustairs Artspace, 1-3pm, $35/person – Polk matches eligible for enrichment funds.
…Nov 16, Lego Junior Makers, Polk Library, 4-5pm.
…Nov 17, Nintendo Wii U, grades 6-12, Saluda Library, 4-5:30pm.
…Nov 18, Teen Scene: The Hunger Games party, Polk Library, 4-5pm, crafts, costume contest, movie, snacks.
…Nov 18, Charity Art Show, PC Early College, 6-9pm, 317841@polkschools.org.
…Nov 18-22, Hotel Transylvania, rated PC, Tryon Movie Theatre, 859-6811.
…Nov 21, Holiday Bazaar with arts, crafts & baked goods for sale, Church of the Transfiguration, Saluda, (843) 271-0257.
…Nov 22, Free Wild for Life, wildlife rehab program at FENCE, 2-4pm, FREE.
…Nov 23, Teen Book Club discussing Drawn, Polk Library,4pm, snacks, FREE.
…Nov25-29, Polk & Spartanburg Co schools closed for Thanksgiving holidays.
…Nov 26, Happy Thanksgiving everyone!!
…Nov 27, Light Up Landrum, street lighting, hot chocolate & treats, 6pm.
…Nov 27-29, Chasing Rainbows, Flat Rock Playhouse, FREE passes for Polk matches.
…Nov 28, Holiday Heritage Arts & Crafts Show, Stearns gym, Columbus, 9am-3pm. Live music, door prizes.
Stay tuned for news on the Big Brothers Big Sisters Christmas party!
…Dec 3, Landrum Christmas parade & stroll, 6pm, free music & goodies.
…Dec 5, Tuba Christmas, 1:30pm, Polk Co High School, FREE.
…Dec 5, Tryon Christmas stroll, 4-8pm, music & treats downtown.
…Dec 5, Columbus Christmas parade, 4pm.
…Dec 9, Tryon Christmas parade, 5pm.
…Dec 11, Saluda Hometown Christmas, 6-8pm, festivities downtown.
BBBS events:
Polk Big Brothers Big Sisters was a charity recipient of the Tour de Leaves 2015 bicycle tour on October 18, with about 200 riders participating!
BBBS is also a charity recipient of the 4th annual Tryon BeerFest, and we appreciate  their generosity!
Special thanks to our friends and neighbors at Soups On, a benefit for BBBS  hosted by Chris and Linda Tinkler.
BOWL FOR KIDS' SAKE! was held on Saturday, October 31. Thanks to all who helped make it a great success, including Becky Kennedy (center below) and her team "The Bowled & the Beautiful" from the Polk County Democrats. Becky again amassed pledges of more than $3000! Team mate Judy Arledge, right, came in 2nd with pledges.
Presenting Sponsor: Terry Ackerman, Strike Sponsors: CooperRiis and Roger & Jennifer Smith; Pin Sponsors: Rob Fuller, Lichty Guitars, Morning Glory Farm, A.Bailey Nager – Attorney at Law.
Team Sponsors: John & Cindy Boyle of Wells Fargo Advisors – Landrum, Digit & Beth Laughridge, Kiwanis Club of Tryon and Musselwhite Electric. Lane Sponsors: Bonnie Brae, Diamond B Energies, Cindy Viehman, Andy & Linda Haynes, HomeTrust Bank, Hospice of the Carolina Foothills, Sandy McCormack, Millard & Co, Mike & Paula Mullenax, North State Gas, PANGAEA, Paws Prayer & Promises, Jim Peterman, Po Kitties, Prince Gas Co, ServiceMaster, Blake Smythe, St Luke's Hospital, Stearns Education Center, Walker Wallace & Emerson Realty.
Have a HeArt for Big Brothers Big Sisters is a highly anticipated event held in Jan-Feb at the Upstairs Artspace in Tryon.   The 2015 fundraiser was a heArt-warming success! Many thanks to the Upstairs Artspace board and staff, all the talented artists, the generous bidders and winners, the many helpful volunteers, and to Jim Cornell & Doug Dacey for making the bisque hearts. We are so grateful for our sponsors: Event Sponsor – Song Hill Reserve, Opening Reception Sponsors – Mike & Paula Mullenax, Heart Sponsor – Phoenix Futures Inc, and Closing Night Sponsors – Dave & Sue Anderson. Special thanks to BS Sue and her LS Nathalie for preparing and donating such a wonderful spread! (We are still getting kudos about our caterer!!) We are looking forward to our HeArts project for 2016 opening January 23.
Additional events:
Area Opportunities:
Felburn Foundation Nature Library, 3161 Hwy 176 next to Caro-Mi, open M-W-F, 12-6, (828) 859-6745, call for info on expanded hours.
There are lots of children's activities at Hands On! A Child's Gallery in Hendersonville: 828-697-8333, www.handsonwnc.org.
The Hendersonville Museum under the old courthouse downtown is free and open on Sundays from 1-5 p.m. www.hendersoncountymuseum.com
KidSenses Children's Museum in Rutherfordton, (828) 286-2120, www.kidsenses.com
For hiking, visit
The Norman Wilder Forest for a moderate 2-3 mile hike, Hwy 176 & Tau Rock Vineyard Rd, Tryon.
The trailhead to the Blue Wall Preserve is on Dug Hill Road off Lakeshore Drive on Lake Lanier.
FENCE has miles of hiking trails.
WNC Nature Center, Asheville: Free admission for Littles when their Bigs show participant cards.
For more regional discounts, visit our organization's webpage at www.bbbswnc.org – Match Central.
Local Discounts:
Flat Rock Playhouse – Free tickets for select plays, contact BBBS.
Chimney Rock Park – Big pays, Little gets in free.
Pearson's Falls is offering Polk Bigs/Littles free admission  once per year. Present your BBBS ID card at the gatehouse. Pearson's Falls is open, 10-5 M-Sat, noon-5 Sun. For info visit www.pearsonsfalls.org.
Check out these regional websites:
Polk County Public Library Online Resources: Freegal: Download free music! Reading Rockets: Reading comprehension and language arts teaching strategies for kids. 
Homework help and other online learning tools from NC LIVE (call the library for password to access resources, 894-8721 Columbus, 749-2117 Saluda), www.publib.polknc.org.
For homework help via Polk County Library visit: www.nclive.org/browse/homeworkhelp
For more area activities:
www.funthingstodointhemountains.net
More About BBBS Polk County:
Polk BBBS Christmas at Morning Glory Farm, December 13, 2014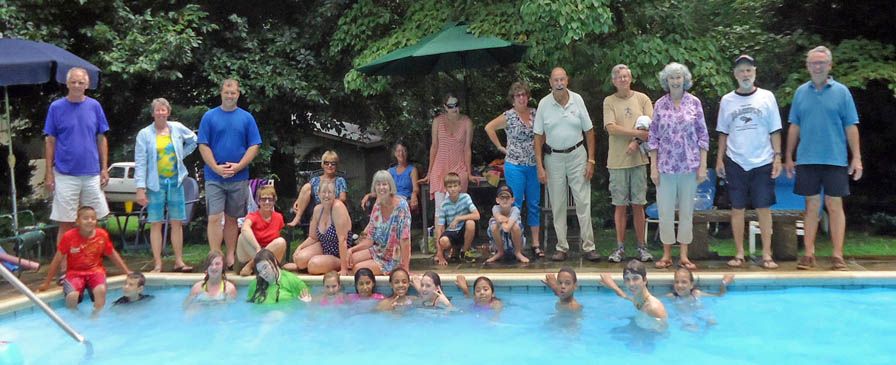 Bigs & Littles celebrated summer fun with a pool party and picnic at Matthew's backyard paradise!

BS Monica, BS Helen,  LS Allie, LS Vicky

BB Mike, LB Zane, BS Paula
BB Michael & LB "King" George
Programs
Traditional Program: Volunteers are matched with Littles and develop friendships through outings in the community.
M&M: Volunteers spend one hour a week one-on-one with a student who needs a little extra attention at school. Schools served: O P Earle, Polk Central, Saluda and Tryon Elementary schools.