Program Coordinator: Karen Dacey
Phone: 828-859-9230
Fax: 828-859-5364
Karen email: polk@bbbswnc.org

Program Coordinator: Latisha Miller

301 N. Trade St., Tryon, NC 28782
Polk News: Events & Important Dates
Polkin' Around – November-December 2014
Happy Anniversary!
BS Lynne Parsons, LB Russell – 10 years!!!
BS Monica Jones, LS Vicky – 8 years!!
BS Cathy Smith Bowers, LS Belen – 6 years!
BS Darlene Stone, LS Hannah – 3 years
BB Bob Hutchison, LB Aaron – 3 years
BS Paula Mullenax, LB Zane – 2 years
BS Betsy Burdett, LS Tristan – 2 years
BS Rhonda O'Connor, LS Aaleiyah – 1 year
To help your Littles discover his/her interests visit: www.search-institute.org/sparks
BBBS events:
Polk Big Brothers Big Sisters was a charity recipient of the Tour de Leaves bicycle tour on October 18, with over 230 riders participating!
BOWL FOR KIDS' SAKE was a great success! Many thanks to our wonderful sponsors: Strike Sponsor: CooperRiis Healing Community; Pin Sponsors: Terry Ackerman, Lichty Guitars, Morning Glory Farm, Bailey Nager, Roger & Jennifer Smith; Team Sponsors: Larry & Gretchen Boyd, John & Cindy Boyle, Becky Kennedy & the Polk County Democratic Women, Kiwanis Club of Tryon,Digit & Beth Laughridge, Mill Spring Baptist Church, No Problem Builders, St Luke's Hospital, David & Patty Slater, The Tryon Daily Bulletin; and many Lane Sponsors , Pledge Friends, and Door Prize Donors.
Special thanks to Becky Kennedy, Dan Dworkin, and Michael & Sheila Veatch for their extraordinary pledge-raising success! Thanks to all bowlers & donors; to volunteers: Alan Breeden, Karen Dacey, Rob Fuller, Sharon Kolbye, Beth Laughridge, Lynn Montgomery, Paula Mullenax, Tristan, and Michael & Sheila Veatch; to Autumn Lanes Bowling Center; to all of our volunteer Bigs, and generous supporters.
BBBS is also a charity recipient of the 3rd annual Tryon BeerFest, and we appreciate  their generosity!
Polk County Library news: Afternoon Adventures for K-5 Tuesdays at Polk, and Mondays in Saluda, 4:PM. Sam's Reading Buddies @ Saluda Dec 8 & 22 at 4:PM.
Dec 1 & 2, Zumba Fitness.
Dec 9 &15, Lego Fun
Dec 16: Gymnastics
Events Calendar:
Nov 27, Happy Thanksgiving!! We are thankful for all of our Bigs, Littles, volunteers and supporters.
Nov 29, Heritage Holiday Celebration:  Arts & Crafts bazaar, 9:AM-5:PM, 4:PM storytelling by Marilyn McMinn-McCredie. 899-5111.
Nov 29, Landrum Christmas Stroll & Light Up Landrum, 10:AM-5:PM, open house downtown shops, refreshments, and tree lighting.
Nov 29, Saluda Tailgate Holiday Market, 1-3:PM,
Dec 2, Santa visits LaurelHurst, 2:30-4:30 PM, refreshments will be served.
Dec 4, Landrum Christmas Parade, 5:PM.
Dec 4, Do it Yourself Messiah, concert at Tryon Fine Arts Center, 7:30 PM.
Dec 4-7& 11-14, A Christmas Story, Tryon Little Theatre, 859-2466 or www.tltinfo.org.
Dec 5-19, 100×100, Art fundraiser for the Upstairs.
Dec 5, Landrum High School Chorus, Tryon Fine Arts Center, 1:PM.
Dec 5, Tryon Christmas Stroll, 5-8:PM.
Dec 6, A Tuba Christmas, Polk County High School, 1:30PM, free.
Dec 10, Tryon Christmas Parade, 5:PM, music, floats, candy, Santa.
Dec 10-14, Alexander & the Terrible, Horrible, No Good, Very Bad Day, rated PG, Tryon Theatre, 859-6811, http://www.tryontheatre.com.
Dec 12, Saluda Hometown Christmas, open house downtown, music, refreshments, 6-8:PM.
Dec 13, Run/Walk scholarship benefit,9:AM,  http://holycrosstryon.org/parish-life/race-to-the-head-of-the-class
Dec 13, Saluda Children's Christmas Workshop, Saluda Fire Dept, 9:30AM-1:PM, Christmas art projects, free ages 5+, call 828-749-4521.
Dec 13, Big Brothers Big Sisters annual Christmas Party, Morning Glory Farm, Mill Spring, 2-4:PM, refreshments, holiday craft, bonfire, music, gifts.
Dec 13, Columbus Christmas Parade, 4:PM.
Dec 14, Mostly Hall Christmas open house & silent art auction to benefit Big Brothers Big Sisters and Steps to Hope, 3-6:PM, 66 Fox Trot Lane, Tryon. Light refreshments, home and art tours, tree decorating. Littles welcome with adult.
Dec 14, Community Chorus, 3:PM, Polk County High School.
Dec 17, Teen Book Club at Polk Co Library: discussing "Let it Snow" at 4:PM. Refreshments and crafts workshop to follow. To register.call 894-8721 x227 or email jpace@polklibrary.org.
Dec 18, Drum Circle, Polk Co Library, 5:30-7:30 PM.
Dec 18, Polk County High School Band Christmas performance, 7:PM.
Dec 22-Jan 2 Polk & Spartanburg Schools Christmas break.
Merry Christmas! Happy New Year!
Additional events:
Area Opportunities:
Felburn Foundation Nature Library, 3161 Hwy 176 next to Caro-Mi, open M-W-F, 12-6, (828) 859-6745, call for info on expanded hours.
There are lots of children's activities at Hands On! A Child's Gallery in Hendersonville: 828-697-8333, www.handsonwnc.org.
The Hendersonville Museum under the old courthouse downtown is free and open on Sundays from 1-5 p.m. www.hendersoncountymuseum.com
KidSenses Children's Museum in Rutherfordton, (828) 286-2120, www.kidsenses.com
For hiking, visit
The Norman Wilder Forest for a moderate 2-3 mile hike, Hwy 176 & Tau Rock Vineyard Rd, Tryon.
The trailhead to the Blue Wall Preserve is on Dug Hill Road off Lakeshore Drive on Lake Lanier.
FENCE has miles of hiking trails.
WNC Nature Center, Asheville: Free admission for Littles when their Bigs show participant cards.
For more regional discounts, visit our organization's webpage at www.bbbswnc.org – Match Central.
Local Discounts:
Flat Rock Playhouse – Free tickets for select plays, contact BBBS.
Chimney Rock Park – Big pays, Little gets in free.
Pearson's Falls is offering Polk Bigs/Littles free admission (regularly $5 ages 13 up, $1 ages 6-12) once per year. Present your BBBS ID card at the gatehouse. Pearson's Falls is open, 10-5 M-Sat, noon-5 Sun. For info visit www.pearsonsfalls.org.
Check out these regional websites:
Polk County Public Library Online Resources: Freegal: Download free music! Reading Rockets: Reading comprehension and language arts teaching strategies for kids. 
Homework help and other online learning tools from NC LIVE (call the library for password to access resources, 894-8721 Columbus, 749-2117 Saluda), www.publib.polknc.org.
For homework help via Polk County Library visit: www.nclive.org/browse/homeworkhelp
For more area activities:
www.funthingstodointhemountains.net
More About BBBS Polk County: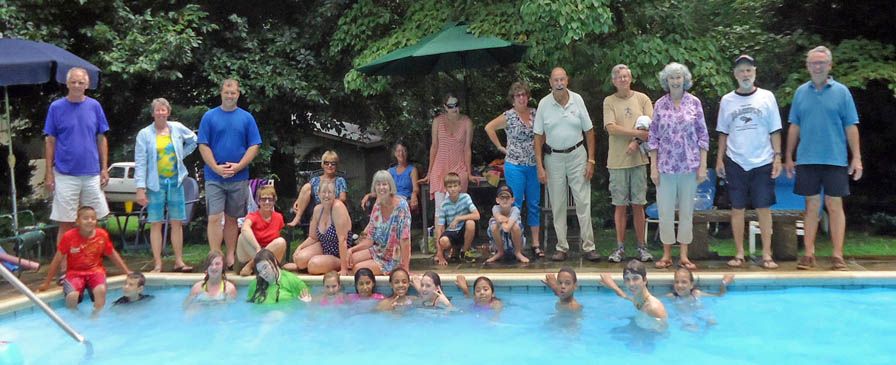 Bigs & Littles celebrated summer fun with a pool party and picnic at Matthew's backyard paradise!

BS Monica, BS Helen,  LS Allie, LS Vicky

BB Mike, LB Zane, BS Paula
BB Michael & LB "King" George
Programs
Traditional Program: Volunteers are matched with Littles and develop friendships through outings in the community.
M&M: Volunteers spend one hour a week one-on-one with a student who needs a little extra attention at school. Schools served: O P Earle, Polk Central, Saluda and Tryon Elementary schools.