Program Coordinator: Karen Dacey
Phone: 828-859-9230
Fax: 828-859-5364
Karen email: polk@bbbswnc.org

School Mentoring Coordinator: Latisha Miller

301 N. Trade St., Tryon, NC 28782
Polk News: Events & Important Dates
BBBS news:  Polkin' Around                                         September 2015
Happy Anniversary!
BB Alan Maurer                LB Abdias     4 years
BS Lynne Parsons             LS Josie       2 years
Mark your calendars! 
Sunday, October 18, Tour de Leaves bike ride will benefit BBBS. Volunteers needed!
Local Events Calendar:
If you would like to create a Monarch Butterfly garden, contact PAC for free seed packets at pacolet.org.
For info on the Carl Sandburg Home National Historic Site summer programs online at nps.gov/carl.
For info on KidSenses summer programs visit kidsenses.org
For info on Hands On Museum summer programs visit handsonwnc.org
Remember our local farmer's markets in Columbus and Landrum on Saturday mornings, Saluda on Friday afternoons and Tryon Thursday afternoons!
To help your Littles discover his/her interests visit: www.search-institute.org/sparks
BBBS events:
Have a HeArt for Big Brothers Big Sisters was a great success!  Many thanks to the Upstairs Artspace board and staff, all the talented artists, the generous bidders and winners, the many helpful volunteers, and to Jim Cornell & Doug Dacey for making the bisque hearts. We are so grateful for our sponsors: Event Sponsor – Song Hill Reserve, Opening Reception Sponsors – Mike & Paula Mullenax, Heart Sponsor – Phoenix Futures Inc, and Closing Night Sponsors – Dave & Sue Anderson. Special thanks to BS Sue and her LS Nathalie for preparing and donating such a wonderful spread! (We are still getting kudos about our caterer!!)
Polk Big Brothers Big Sisters was a charity recipient of the Tour de Leaves bicycle tour on October 18, with over 230 riders participating!
BOWL FOR KIDS' SAKE!
Join us on Saturday, October 31 from 12:00-2:00!
Special thanks to our sponsors!
Terry Ackerman, Financial Advisor 
Roger & Jennifer Smith     
Cooper Riis
Rob Fuller
Lichty Guitars
Morning Glory Farm
A. Bailey Nager Attorney at Law
BBBS is also a charity recipient of the 3rd annual Tryon BeerFest, and we appreciate  their generosity!
Additional events:
Area Opportunities:
Felburn Foundation Nature Library, 3161 Hwy 176 next to Caro-Mi, open M-W-F, 12-6, (828) 859-6745, call for info on expanded hours.
There are lots of children's activities at Hands On! A Child's Gallery in Hendersonville: 828-697-8333, www.handsonwnc.org.
The Hendersonville Museum under the old courthouse downtown is free and open on Sundays from 1-5 p.m. www.hendersoncountymuseum.com
KidSenses Children's Museum in Rutherfordton, (828) 286-2120, www.kidsenses.com
For hiking, visit
The Norman Wilder Forest for a moderate 2-3 mile hike, Hwy 176 & Tau Rock Vineyard Rd, Tryon.
The trailhead to the Blue Wall Preserve is on Dug Hill Road off Lakeshore Drive on Lake Lanier.
FENCE has miles of hiking trails.
WNC Nature Center, Asheville: Free admission for Littles when their Bigs show participant cards.
For more regional discounts, visit our organization's webpage at www.bbbswnc.org – Match Central.
Local Discounts:
Flat Rock Playhouse – Free tickets for select plays, contact BBBS.
Chimney Rock Park – Big pays, Little gets in free.
Pearson's Falls is offering Polk Bigs/Littles free admission (regularly $5 ages 13 up, $1 ages 6-12) once per year. Present your BBBS ID card at the gatehouse. Pearson's Falls is open, 10-5 M-Sat, noon-5 Sun. For info visit www.pearsonsfalls.org.
Check out these regional websites:
Polk County Public Library Online Resources: Freegal: Download free music! Reading Rockets: Reading comprehension and language arts teaching strategies for kids. 
Homework help and other online learning tools from NC LIVE (call the library for password to access resources, 894-8721 Columbus, 749-2117 Saluda), www.publib.polknc.org.
For homework help via Polk County Library visit: www.nclive.org/browse/homeworkhelp
For more area activities:
www.funthingstodointhemountains.net
More About BBBS Polk County:
Polk BBBS Christmas at Morning Glory Farm, December 13, 2014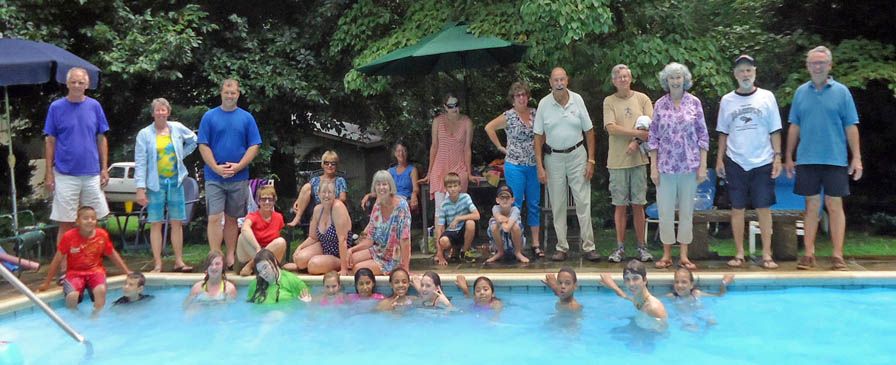 Bigs & Littles celebrated summer fun with a pool party and picnic at Matthew's backyard paradise!

BS Monica, BS Helen,  LS Allie, LS Vicky

BB Mike, LB Zane, BS Paula
BB Michael & LB "King" George
Programs
Traditional Program: Volunteers are matched with Littles and develop friendships through outings in the community.
M&M: Volunteers spend one hour a week one-on-one with a student who needs a little extra attention at school. Schools served: O P Earle, Polk Central, Saluda and Tryon Elementary schools.